Mr. Ranjit Herma is a devotee of Maa Adhya Shakti & Lord Shiva

Music is soul of Mr. Ranjit Herma so he decided to start a music company.In 1983 he started this company in a very small level by recording programmes of different singers. And today Studio Siddharth is no.1 Gujarati Music company. Being Chairman of the company Mr. Ranjit Herma has produces thousands of super-hit gujarati music albums, garba, lokgeet, lok sahitya, bhajans, jokes, devotional songs etc... For example : Internationally Hit Garba " PANKHIDA O PANKHIDA" is produced by Studio Siddharth and lyrics written by His wife Mrs. Vijyaben Herma.

It has always been his endeavour to reach the Global consumer and offer them the best of original digital gujarati content of his company through his digital initiative which is the first from the gujarati music industry.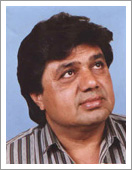 Chairman & The Great Visionary